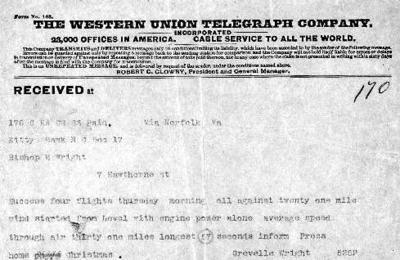 A telegram. Source of image: online version of article cited below.
BLOOMBERG NEWS
After 155 years in the telegraph business, Western Union has cabled its final dispatch.
The service that in the mid-1800s displaced pony-borne messengers has itself been supplanted over the last half-century by cheap long-distance telephone service, faxes and e-mail.
In a final bit of irony, Western Union informed customers last week in a message on its Web site.
For the full story, see the online version of:
"First Data Unit Scraps Telegrams." Omaha World-Herald (Thurs., February 2, 2006): 9D.
(In the online version, the headline reads: "Western Union Telegrams Are No More.")