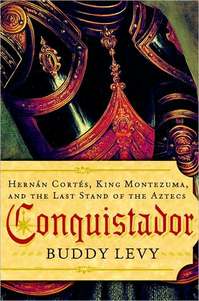 Source of book image: http://images.barnesandnoble.com/images/26910000/26912572.jpg
(p. A 13) Cortés was a man of deep contradictions. A devout Catholic, he was horrified by the sights and sounds of Aztec worship: its human sacrifices and cannibalism, its skull racks, its idols draped with human body parts, its priests with their blood-clotted hair. But he was not above massacring his enemies or burning them at the stake. He was genuinely dazzled by his first sight of the Aztec capital, Tenochtitlán, with its tidy fields and gleaming stone causeways, a city of nearly a quarter-million people that was, he wrote in a letter to the Spanish king, more beautiful than any in Europe. Even so, he was ready to destroy it all to feed his desire for gold and to bend the Aztecs to his will.

If Cortés was a man of contradictions, Montezuma was not. Studious and conscientious, he had been trained for Aztec priesthood before becoming emperor in 1503 — the same year that Cortes set out from Spain for America. Montezuma believed in the rightness of his own convictions but also, it appears, in the importance of an open mind. As Mr. Levy shows, he always looked for ways to dispel a crisis by placating the feelings of all concerned. He would have made a fine college president. From his first meeting with Cortés in November 1519, though, he was desperately overmatched.
Montezuma hoped that, by giving Cortés magnificent gifts of gold and silver, he could make him go away. He made him want to stay instead. The Aztec ruler never quite shook off the suspicion that Cortés might be the Aztec god Quetzelcoatl returning home according to ancient prophesy — a suspicion that led Montezuma to want to treat the intrusive Spaniards as guests rather than a threat.
Cortés exploited Montezuma's weakness without scruple, squeezing one concession after another out of him until, though outnumbered by more than 1,000-to-1, Cortés made him a hostage. When Montezuma had lost all credibility with his people and was no longer useful, Cortés cast him aside. Montezuma died a broken man — although probably not, Mr. Levy argues, at Cortes's order. It is more likely that Montezuma died from wounds inflicted by his own subjects. When they saw him appear in chains and appeal for calm, they had bombarded him with stones and arrows. His weakness, they understood, had betrayed them to the Spanish.
For the full review, see:
ARTHUR HERMAN. "Bookshelf; Spain Says Hello." The Wall Street Journal (Thurs., July 10, 2008): A13.
The reference for the book, is:
Levy, Buddy. Conquistador. New York: Bantam Books, 2008.