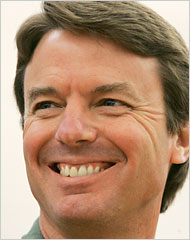 "John Edwards appearing at a public forum in Council Bluffs, Iowa, on March 9, two days after one of his $400 haircuts." Source of caption and photo: online version of the NYT article cited below.
John Edwards, the North Carolina Democrat, announced on Thursday that he was reimbursing his campaign $800 to cover what his aides said was the cost of two haircuts — yes, you read that correctly — by a Beverly Hills barber, though, perhaps, the word stylist is more applicable.

. . .

Mr. Edwards has presented himself in the Democratic field as an advocate of working-class Americans, lamenting the nation's growing economic disparity.

Mr. Edwards was disparaged as "the Breck Girl" by Republicans when he ran for president in 2004. More recently, he was captured on camera, waiting for an interview to begin and presumably unaware that he was being taped, fussing with his hair for nearly two minutes.

That clip found its way to You Tube, with the song "I Feel Pretty" playing in the background. Posted on Nov. 8, 2006, it was viewed 289,288 times as of Thursday evening.
For the full story, see:
ADAM NAGOURNEY. "In the Beverly Hills Style: Candidate's $400 Coiffure." The New York Times (Fri., April 20, 2007): A19.
(Note: ellipsis added.)
As of 4/21/07, the "John Edwards Feeling Pretty" video clip, can be found on YouTube at:
http://www.youtube.com/watch?v=2AE847UXu3Q