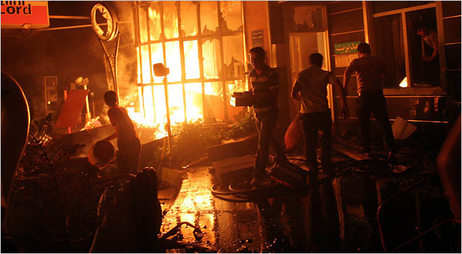 "Protesters burned at least two gas stations in Tehran after the Oil Ministry announced gas rationing would begin Wednesday just after midnight." Source of caption and photo: online version of the NYT article cited below.
TEHRAN, June 27 — Angry drivers set fire to at least two gas stations overnight in Tehran after the government announced that gasoline rationing would begin Wednesday just after midnight.

The state television news said Wednesday that "several gas stations and public places had been attacked by vandals." While there were some reports that a large number of gas stations had been set on fire, only two fires were confirmed.

. . .

Under the new regulations announced by the Oil Ministry on Tuesday evening, private cars will be able to buy a maximum of 26 gallons of gasoline a month at the subsidized price of 34 cents per gallon. Taxis will be allowed 211 gallons a month. Parliament would have to determine whether individuals would be allowed to buy more at market rates.

There were long lines at gas stations in Tehran on Wednesday, causing traffic jams, and the police moved in to control the lines.

Iran is OPEC's second-largest exporter of oil. But it needs to import half of its gasoline — at a cost of $5 billion a year — because of high consumption and low refining capabilities.

Inflation in Iran had already been high, as a result of a combination of economic factors and government decisions. The price of dairy products like milk, butter and yogurt increased this week by at least 20 percent.
For the full story, see:
NAZILA FATHI. "2 Iranian Gas Stations Burned Over Rationing." The New York Times (Thurs., June 28, 2007): A8.
(Note: ellipsis added.)