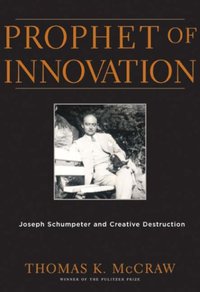 Source of book image: http://reader2.com/wasp1028
I am in the process of writing a full-length review of McCraw's book for the annual Research in the History of Economic Thought and Methodology. Suffice it to say that McCraw's book is very useful and very interesting, and gets a lot right that is important. Most notably, McCraw appreciates that Schumpeter's central message is that innovation is what matters most about capitalism.
Source of book:
McCraw, Thomas K. Prophet of Innovation: Joseph Schumpeter and Creative Destruction. Cambridge, Mass.: Belknap Press, 2007.