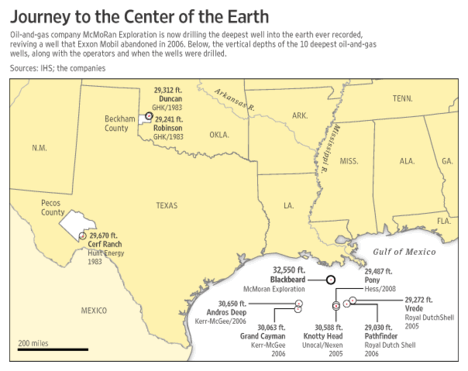 Source of map: online version of the WSJ article quoted and cited below.
(p. B1) McMoRan Exploration Co. is leading a renewed effort to find natural gas in a site known as one of the world's deepest dry holes.
Exxon Mobil Corp. walked away from the legendary Blackbeard prospect in the Gulf of Mexico in 2006 after drilling to more than 30,000 feet without a payoff. But high energy prices have emboldened the industry, stirring wildcatter passions and prompting companies to look anew at previously abandoned projects.
. . .
(p. B2) If industry reports, unconfirmed by Exxon, are correct, the company spent more than $200 million on the well, making it one of the most expensive dry holes ever drilled.
The industry is littered with expensive failures, but Blackbeard proved too tempting to let go, especially in today's record-price environment, where any reasonably promising prospect is worth a try. Indeed, there are more drilling rigs at work in the U.S. today than at any point since 1985, according to Baker Hughes Inc.
Mr. Moffett, the 69-year-old founder of McMoRan Exploration, is a geologist and inveterate risk taker. He discovered the giant Grasberg copper and gold mine in Indonesia, parlaying it into global mining giant Freeport-McMoRan Copper & Gold Inc. The oil-and-gas exploration company was spun off from the mining assets in 1994.
Last August, McMoRan paid $1.1 billion for a package of shallow Gulf of Mexico assets, including Blackbeard, from Newfield Exploration Co., Exxon's former partner on the well. Studying the geology, Mr. Moffett found it similar to successful wells drilled by other companies in the deeper parts of the Gulf.
He now says that if McMoRan decides to keep drilling to 35,000 feet, it will cost about $75 million.
For the full story, see:
RUSSELL GOLD "A Famed Dry Hole Gets a Second Shot." The Wall Street Journal (Mon., July 21, 2008): B1-B2.
(Note: ellipsis added.)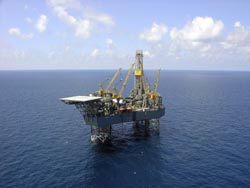 Photo on left is "GorillaIV, the rig drilling Blackbeard." Image on right is the Co-Chairman of McMoRan. Source of photo, image, and caption on left photo: online version of the WSJ article quoted and cited above.